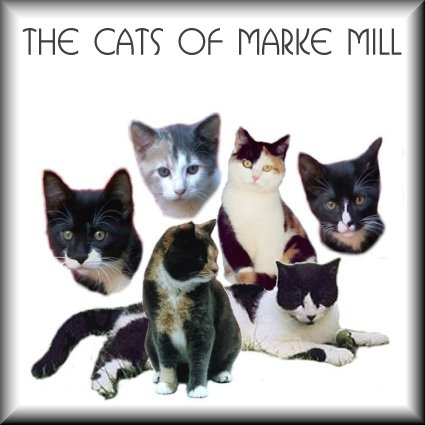 Our beloved cats:
Laying down: Bartolomæus - called Mæus, male, white with black.
Sitting in front: Elvira - called Virus, female, calico (grey, light brown and white)
Sitting in the back: Nefertiti - called Nefi, female, calico (black, red-brown and white)

The 3 kittens are Nefi's, born on Marke Mill:
Head picture to the right: Cleopatra - called Clea, female, black with white
Head picture in the middle: Nefertari - called Tari, female, calico (grey, light brown and white)
Head picture to the left: Ramses - called Lukas, male, black with white
Unfortunately Marke Mill is not a perfect place to own a cat. Both Mæus, Virus, and Clea were run over
by cars on the road right outside our house. Nefi just disappeared one day, although she was very attached
to both us and all our Bassets, and even had a kitten still living at home. She always obeyed when we
called her name, even better than our Bassets, so we presumed she is dead too. Although we looked all
over for her - and still do - we have never found her. Hopefully she will turn up on our doorstep someday!
Lukas is now living with a family in Næsby, and they love and appreciate him very much. He loves when
the neighbours make their daily walks by his house, because they have 2 Basset Hounds. The Bassets
"girls" are from our kennel, and as Lukas grew up next to a litter of Basset Hound puppies and with 10
adult Bassets in the house - he know a friend when he sees one!
Tari was the only kitten who was left after her Mum disappeared, and we were so afraid to one day
find her dead on the road too. We decided to find a new home for her, and even though it was such
a heartbreaking decision, it was the only solution to try and safe her life. However we were so lucky
finding a perfect home for her. So now our dear Tari is living with a family who adores her, their other
cat who likes her very very much - and she is looking forward having 2 Basset puppies moving in too,
sometime in future!!
We miss our cats so much, they were all so very special to us. Kind and sweets souls, who enjoyed
so much being a part of our family and Basset Hound-pack.
Mæus, Virus and Clea - you will always be in our hearts!
Nefi - if you alive somewhere - we hope you are well and enjoying life. We hope to find you soon!
Ramses and Tari - we know your are adored so much, so take care until we meet again!

We will keep Tari and Clea and have found a wonderfull home for Ramses.



Queen Nefetiti - or Nefi among friends!
When we had lost our wonderful Bartholomæus and later our lovely Elvira, we swore never to have another cat at Marke Mill!
However in October 2002 we met a cold, hungry and abandoned kitten, who seemed so lost and alone in the world. The winter
was coming and we simply could not just leave her to her own destiny! She was some months older than our other two cats
had been when we got them, so we were a little worried how she would react to moving in with 10 Basset Hounds! At least for
the first 3 weeks it wasn't a problem, as she simply stayed in our bedroom! Eating, sleeping, and eating - and sleeping some
more! It was like she could not get enough of the good food and the cosiness of a warm house. When she finally demanded to
see the rest of the house, she was greeted by 10 happy and excited dogs!! The feeling was not mutual - I can assure you! By
her reaction we were sure she soon would try to find some more quiet accommodations!! That was not the case, she stayed
on - to "fight" for her new home no matter what! Well the fights never became serious, as our dogs loves cats - but at first
she was not sure about all that attention and all those wet kisses she got!! Now after living several months at Marke Mill, you
can occasionally find her sleeping close to our Hounds - but most of all she like teasing them by climbing on the roof. That
really makes them CRAZY - and she enjoys that very much!!!

Some of our Bassets looking at Nefi sitting in the tree and Nefi enjoying the company of Joppe!


Bartholomæus & Elvira

"Maeus" was born August 1999 & "Virus" was born May 2000



Maeus enjoying the view from a bird-nest in the tree-top!
Maeus was the first cat at Kennel Benoit, and on the day we came home with him, there were as many different opinions about this strange animal,
as many as we had Basset Hounds at Marke Mill. From love at first sight - to deep fear! Within a week he was accepted by all, and soon became a big
part of the family. He became a great mouse hunter, and he ruled the garden at Marke Mill.

One day in August 2000 we found Mæus dead. As many cats living the free outdoor life, he unfortunately got hit by a car. We were all devastated,
and could not have been more sad as if it had been one of our Bassets. He will always be missed, but has now gone to the Rainbow Bridge to meet
with our dear Bassets, Benoit, Shannon, Buffy and Sheena.

Mæus had many friends in life, and one very special one was the American Basset Hound Finn, who is now living in Norway. Finn was almost like